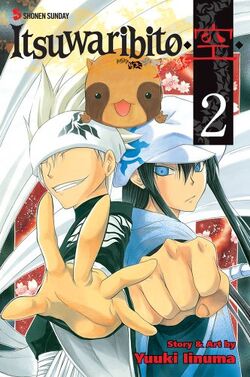 Volume 2 is the second volume of the manga Itsuwaribito. It was published on April 12th 2011.
In the forest, Utsuho, Dr. Yakuma and the talking tanuki Pochi encounter a psychotic man who hunts liars and cuts out their tongues. How can Utsuho outwit someone who can psychically tell when someone's lying?
Chapter 8: Even Though We Think Differently
Edit
Utsuho beats the leader of the itsuwaribito and the lord accepts Yakuma's offer of doing surgery. Utsuho and Yakuma leave the town; Meanwhile, a new danger approaches....
Chapter 9: Yakuma's Suffering
Edit
Chapter 10: The Mysterious Mind Reader
Edit
Chapter 11: If You Believe
Edit
Chapter 12: He's Cool
Edit
Chapter 13: Utsuho Is Human After All
Edit
Chapter 14: Utsuho Gets Tricked
Edit
Chapter 15: We'll Pretend It Didn't Happen ♥
Edit
Chapter 16: The Same Smell
Edit
Chapter 17: For My Family
Edit